Riding the Ashtavinayak Yatra
- Bharat Lele Among all the millions of Gods and Goddesses in the Hindu mythology, the elephant-headed God Ganpati is one of the most loved and revered and completing the Ashtavinayak Yatra every year since the past 12 years is a matter of joy for me and my fellow riders.
The Ashtavinayak Yatra route map (Photo: ashtavinayak.info) To provide with a basic idea of the Ashtavinayak Yatra for those who are unaware, this Yatra involves a visit to the eight ancient holy Ganesha temples spread across Maharashtra. The speciality of the Ashtavinayak is such that the idol in each temple is different from one another and the trunk is distinct too. There is no doubt on the thrill that riding provides, but it comes with a certain amount of responsibility. We have seen and been in a lot of incidents that have taught us a good lesson that there is no option to taking special efforts for our safety. So as a Rider or a Pillion, we always ride with Riding Safety Gears; wearing helmet is obligatory and riding gear is additional safety. Remember to drink a lot of water when you are riding. While on road, have less food since the constant movement may give you an uneasy feeling with a very full stomach. Have stomachs full at night. Last year we started our journey on December 26 early morning at 5 AM. We were six of us with three bikes; 2 Royal Enfields and 1 Apache 180.
Day 1 Thane – Lenyadri – Ozar – Ranjangaon – Siddhatek - Morgao

1) Girijatmaj at Lenyadri
(Photo: varadvinayak.com) Lenyadri represents a series of 30 rock-cut Buddhist caves and the form of Ganesha worshipped here is called Girijatmaj. Lenyadri is a rocky terrain and thus it tends to get hot later in the day. To avoid such inconvenience, we aimed to reach here early in the morning. This was also our first stop since Girijatmaj is the most challenging among the Ashtavinayak. It takes some efforts to reach the main temple since climbing up to the hill gets tough with the steep slopes. To reach Lenyadri, take the Mumbai-Nashik highway and turn over towards Kalyan bypass. Then get on towards Titwala Road on Murbad Highway. This route is particularly popular during the monsoon as a lot people make trips to the famous Malshej ghat in Lonavla. Depending upon the weather you are travelling in, the road is covered with fog early in the morning and with the chill factor, it is quite an adventure to traverse this route. Low visibility invariably makes us stop between Thane and Lenyadri at Malshej ghat to freshen up with some tea and morning snacks. The view of the Girijatmaj after a short climb gives an instant feeling of rejuvenation. The general surrounding of the cave is very clean and the insides have not been tampered with. A little while later we started our journey back to the base village. The descent to the base was a little tricky owing to the slope. On your way down, beware of the monkeys. They can get very cheeky and snatch anything that is in your hand. A good breakfast later, we embarked on our journey again.

2) Vigneshwar at Ozar: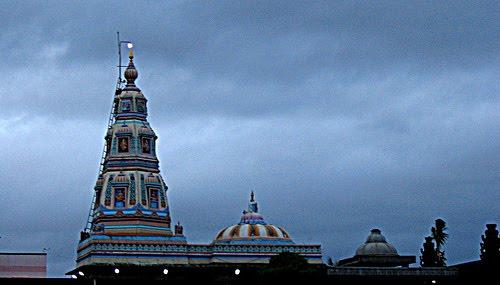 (Photo: onefivenine.com) The ride from Lenyadri to Ozar is only about 15 kms and takes roughly half hour to reach. Ozar, the base village has a wonderful lake around. In addition the lake and the Vigneshwara temple, you can also see the V-Sat station from Ozar. Vigneshwara, literally meaning the removal of obstacles, is situated in the main mandir (gabhara) that is still present in its original structure.

3) Mahaganapati at Ranjangaon
Buffalo festival (Photo: Bharat Lele) Following Vigneshwara at Ozar, we started riding towards Mahaganpati at Ranjangao, a journey of about 75 kms away. This leg of the journey is a little tiring since it is covered in the afternoon and it is the second largest patch between Vighneshwar and Mahaganpati. On one of our previous years, we lost our way and landed in a village where a Buffalo Festival was underway. We had to take our bikes through dead corners of the road that could have made us fall in a big pit if we missed out on the slightest concentration. Now turns out, the right route to Ranjangaon was actually a tiny sand trail and full of rubble. We finally made it to the temple at 3:30 PM and running out of schedule. Moreover, there was a queue for over 600 devotees. We were further surprised when we were told that our belongings, including the mobile phones were to be kept in unguarded lockers. To avoid taking chances, we decided to go in batches of three. All this aftermath ultimately led us to take three hours for the Darshan. In recent years, the temple at Ranjangaon has become commercial in nature and thus one can see long queues and a lot of money. A lot of finance has been pumped into the main temple (gabhara) too. But the temple loses the old charm of the Ashtavinayak.

4) Siddhivinayak at Siddhatek. Siddhatek is about 82 kms from Ranjangaon. It is now safe to travel at any given time of the day except that that the road is quite small and if it is dark then one needs to be careful of the tractors since a lot of Sugar factories are located around here. We travelled through in the evening and owing to a cooler climate, we managed to reach there by 7 PM. We did hustle a bit and there were no stops taken after starting from Mahaganpati so we could manage to reach in 2 hours.
(Photo: wheresmypandit.com) It wouldn't be wrong to call Siddhatek as one of the most undeveloped villages in the Ashtavinayak Yatra. With no commercialisation and less crowd, we made a quick exit from the Siddhvinayak temple. The Darshan took all in 20 minutes. We took another quick short snacks break after this and had refreshing sugarcane juice and corns that made us all set to start off towards Morgaon. 5) Mayureshwar at Morgaon.
(Photo: Sankashti.com) As per our plan, Morgaon was our last stop for the day and we had planned to stay here for the night. We started from Siddhatek at around 8 PM. Although two of our riders were fatigued, we had strict instructions to make it to Morgaon since Siddhatek was not equipped for good accommodation and we would have then lagged in our schedule a lot. So we started the 70 Kms journey and decided to take no stops in between. Unfortunately my Bullet started showing some alarm signs. It started losing power all of a sudden and made our pace drop a lot. We could manage to reach Mayureshwar temple at 10:30 PM. I would want to make a special mention here that even though the bike was new, a Rider must know that it's a machine and anything can happen at any time. Precisely the same happened to me right then. After a day of riding and disrupted schedule we barely managed to get a single room for 6 people in a hotel. We were baring the December cold of the interior Maharashtra and all of us were shivering through our bones. The riding gear helped us a little to bare the cold but it was particularly enough. A hot dinner served at the hotel put the life back in us and we ultimately slept at 1 AM to start out at 5 AM in the morning.
(Photo: Bharat Lele)
Morgaon - Theoor - Pali - Mahad – Thane Delayed from what was decided the previous night, we got up at 5:30 AM and left by 7 for Darshan at the Moreshwar temple. It was still cold but the temple was only 2 kms from where we stayed the night. Although Moreshwar is one of the more popular Ashtavinayaks, we could avoid a long queue since we went there early in the morning. About an hour later, we hit the road to move towards Chintamani temple at Theoor. 6) Chintamani at Theoor
(Photo: wikipedia.org) We covered a distance of about 65 kms from Morgaon to Theoor in roughly an hour and a half and the cold was helping us preserve energy to a great extent. Nightmare of a queue was in front of us. But getting Darshan was of utmost importance at that moment and so we kept our schedule aside and decided to plunge into the sea of people. Roughly four hours later, we took blessings of the Lord. We hurried after that with a cup of tea and Misal Pav for breakfast again followed by a glass of sugarcane juice and then onwards Pali. Personally, moving out of Pune was the worst patch of this ride. I was leading the team and thus the onus of getting traffic out of the way was on me. Finally wading our way through a lot of cars, we joined the Mumbai-Pune old highway and let a sigh of relief. This was one of our regular routes to travel. 7) Ballaleshwar in Pali Covering a distance of about 145 kms we reached Pali at 7 in the evening and were again welcomed by a huge queue. It took us longer to reach Pali as I had to tend to some personal work at Pune. After roughly two hours in the queue, we took Darshan at the Ballaleshwar temple around 10 PM. It was late and we still had one last temple to visit in the Ashtavinayak Yatra. After a sumptuous dinner at Pali we set off on our journey again. 8) Varadvinayak at Mahad
(Photo: deshpandetours.com)
Travelling through a forest in the night was quite thrilling, and due to some technical issues, I had to turn off the headlamp. We started from Pali at around 10:30 PM and reached Mahad at midnight (technically Day 3). This was the best Darshan we had since we could actually touch the Lord's feet and the old unique structure of the Gabhara gives a very peaceful feeling. The Varadvinayak temple closes at 1 AM and reopens at 2 every day. We relaxed here for about half an hour and then went to a hotel in Mahad for some more food. We finally started our homeward journey around 1:30 AM. By 3 in the dead of the night, we finally reached our Naka from where we dispersed home. About Bharat
Bharat walks in a corporate suit on weekdays and a rider's gear on weekends. This SAP consultant has several ultra-long-distance bike rides to his profile. Not only has he covered the entire Ashtavinayak journey in Maharashtra on a bike but also completed a trip to Shegaon, 550 kms from Thane, within only 18 hours. He has also completed a journey from Thane to Leh on bike.